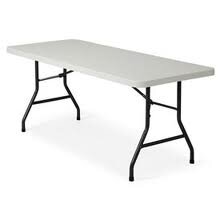 8ft Table
Attention! If you are ordering Tables or Chairs, they will only be avalible for pick up unless ordered with an Inflatable or a Tent!
If you are picking up, Please keep in mind you will be charged $75 for late returns.
If event is on a Saturday, PICK UP IS ON FRIDAY!
Call ONE hour prior to pick up!